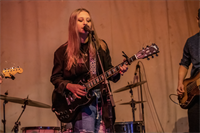 Gabrielle is a singer, songwriter and multi-instrumentalist from the Bronx. Growing up as a student at New York City Guitar School herself, as a teenager she became an intern here and eventually rose through the ranks to become a full time teacher!
Gabrielle studied Vocal Performance at Hunter College, where she focused on classical and opera, but she has always been writing and performing rock and folk music in her spare time. In addition to voice, she also teaches guitar and Rock Band for Kids and Teens. Although she is a proficient instructor in many genres and instruments, her specialties include all styles of vocals, songwriting, and folk guitar (especially fingerpicking)! She currently fronts the indie rock band War Honey.
Gabrielle aims to make her lessons positive, encouraging and tailored to your interests, and looks forward to helping you meet your musical goals!
#vocalteacher