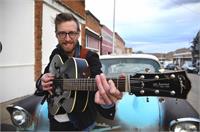 Dylan Charles is a singer/songwriter based in New York City. His music runs the gamut from acoustic americana and rock/blues to jazzy soul and electo-pop. Touring nationally as a solo act and as a bandleader, he also co-founded and continues to perform with NYC soul band On The Sun and Arizona-based americana band The Border Crossers. In addition to his own projects, he frequently works with other artists as a multi-instrumentalist sideman, producer, co-writer and studio musician.
Dylan has been playing guitar for over 20 years and teaching almost as long. He started working with New York City Guitar School when he moved to NYC in 2012 and is currently the program director for the school's Rock Band program as well as a teacher at the Midtown and Brooklyn locations.
In high school he taught lessons to fellow teens as part of a "Community Resources" program in his home town of Ann Arbor, MI. He frequently played local gigs through the Community High School jazz band program as well as with his own original music projects. He continued to teach, perform and record while studying jazz guitar at University of Cincinnati's College-Conservatory of Music where he graduated Magna Cum Laude in 2006.
In 2008 Dylan moved to Bisbee, AZ where he created and coached an after school rock band program at the Bisbee High School and worked as a substitute teacher for the Bisbee elementary, middle and high schools. Dylan also founded a non-profit program called "The Friday Project" when, because of budget cuts, Bisbee Unified School District cut Fridays from the school week. The program provided a wide variety of free workshops to kids and teens that were all taught by local residents in an effort to keep kids engaged in learning and exploring their passions in the absence of a traditional public school structure.
Dylan's positive energy and encouraging teaching style has helped so many students reach their music goals. Call or email us to set up a lesson with Dylan yourself and visit www.dylancharles.com for music, videos and a calendar of his upcoming performances.
#leadguitar #fingerstyle #musicproduction