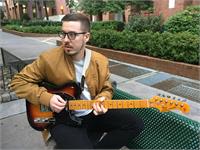 Born and raised in the outskirts of New York City, Greg began studying music at an early age into his college years. Starting with the saxophone in grade school and later moving on to guitar, it became clear that music would be a lifelong passion.
Greg moved to the city in 2010 to intern at a recording studio and focus on his musical path. He has played guitar and bass in various NYC bands for over a decade including genres such as pop punk, indie rock and hardcore.
Fueled with inspiration by a range of artists from the Beastie Boys to the Beatles, he is ready to lead his students on the path to guitar greatness! Greg loves teaching newcomers to help find their love of music. His lessons are focused on building self confidence in an encouraging environment by accomplishing student's goals while having fun. His favorite things to teach students of all ages are pop, singer-songwriter, classic, indie and alt rock.